War Memorial, Kerridge, Cheshire.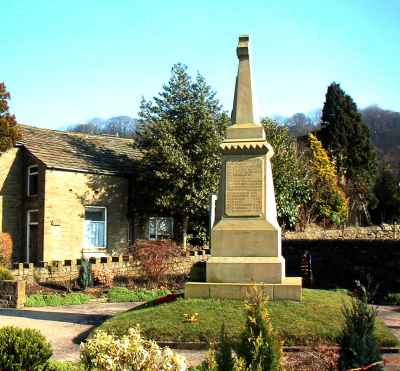 Location
Oak Lane, Kerridge, Cheshire.
Description
A stone obelisk supporting a cross. The names of those of Kerridge who fell in the two world wars are inscribed on the sides of the obelisk.
Inscription
VICTORY.
To the Honour and Glory of God and in loving memory
of the brave Kerridge men who laid down their lives for their
King and Country in the Great War, 1914 - 1919.
Lieut Col G H SWINDELLS TD
. . . . . 4th Chesh Regt
Lieut S H MARSLAND
. . . . . 11th Batt Man Regt
Cpl F ASH 1st Lanc Fus
L Cpl E ARNOLD 8th Chesh Regt
L Cpl C BAGULEY 21st Man Reg
L Cpl J F PICKFORD 1. 7th Ches Regt
Pte G ANKERS 11th Ches Regt
Pte W BAGULEY 1. 7th Chesh regt
Pte J J BIRCH 13th Ches Regt
Pte S LEIGH 13th Ches Regt
Pte H MAYERS 6th Ches Regt
Pte A OLDFIELD 1. 7th Ches Regt
Pte G OLDFIELD 1. 7th Ches Regt
Pte J POTTS 2. 7th Ches Regt
Pte S ROSE 13th Ches Regt
Pte H H SNAPE 10th Ches Regt
Pte H TRUEMAN 1. 7th Ches Regt
Pte S HUNT 1. 7th Ches Regt
Pte W HALLOWELL 6th Batt KSLI
Pte J HATTON 7th R Welsh Fus
Pte P GASKELL 2nd R Welsh Fus
Pte A SIGLEY 8th Batt W Reg
Pte J W MILLWARD 2.7th Kings Liv Reg
Pte A TINSLEY 24th Batt Can Reg
Pte J SHAW 107 Pro Com RDC

Also, the men who laid down their lives
in 1939 - 1945

PO J KERSHAW RAF VR
PO A KERSHAW RAF
PO G L JACKSON MN
Cpl L BANBROOK RNR
Sgt J ALLMAN RAF
Pte R VARE IG
Trp F BEARDMORE RAC
Sgt E CARLISLE RAM
E A COCHRANE RON
Pte J A WETTON RE
J SNAPE RE