Memorial, Kingston Mill, Hyde.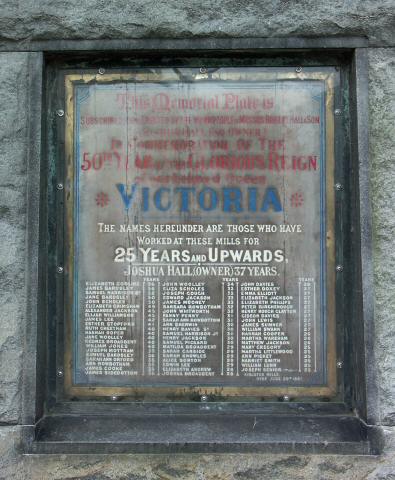 Location
Kingston Mill, Manchester Rd, Hyde, (50 yards east of the Church of the Latter Day Saints). In the mill yard, inset into the boundary wall backing on to Manchester Rd.
Description
Two memorials. The first erected in 1887 to commemorated the 50th year of the reign of Queen Victoria. The second erected in 2002 to commemorated the 50th year of the reign of Queen Elizabeth II.

The Victorian memorial lists the names of 62 employees who had worked at that mill for 25 years or more. The most senior had worked there for 56 years.
Inscription (1887)
This Memorial Plate is


SUBSCRIBED FOR & ERECTED BY THE WORKPEOPLE OF MESSRS ROBERT HALL & SON
(JOSHUA HALL ESQ OWNER)
IN COMMEMORATION OF THE
50th YEAR OF THE GLORIOUS REIGN
of our beloved Queen

VICTORIA
THE NAMES HEREUNDER ARE THOSE WHO HAVE
WORKED AT THESE MILLS FOR
25 YEARS AND UPWARDS

Joshua HALL (OWNER) 37 YEARS.


Elizabeth GOSLING
James BARDSLEY
Samuel HARRISON Sr
Jane BARDSLEY
John SCHOLES
Elizabeth GRIMSHAW
Alexander JACKSON
Elijah WILLIAMSON
James LEE
Esther STOPFORD
Ruth CHEETHAM
Hannah ROPER
Jane WOOLLEY
George BROADBENT
William JONES
Joseph MOTTRAM
Samuel BARDSLEY
Sara Ann ORFORD
Ann ROWBOTHAM
James COOKE
James SIDEBOTTOM


Years
56
56
52
50
50
49
45
45
42
41
40
40
40
40
40
39
36
35
35
35
35



John WOOLLEY
Eliza SCHOLES
Joseph GOUGH
Edward JACKSON
James MOONEY
Barbara ROWBOTHAM
John WHITWORTH
Fanny PENNY
Sara Ann ROWBOTTOM
Ann SHERWIN
Henry DAVIES Sr
Samuel HARRISON Jr
Henry JACKSON
Samuel PICKARD
Matilda BROADBENT
Sarah GARSIDE
Sarah KNOWLES
Alice SORTON
Edwin LEE
Elizabeth ANDREW
Joshua BROADBENT


Years
34
33
33
33
33
32
32
31
31
30
30
30
30
30
29
29
29
29
29
28
28



John DAVIES
Esther DOXEY
Emma ELLIOTT
Elizabeth JACKSON
Elizabeth PHILLIPS
Peter BIRCHENOUGH
Henry Hough CLAYTON
Gideon DAVIES
John LEWIS
James SUMNER
William SWANN
Hannah COOPER
Martha WAREHAM
Matthew JACKSON
Mark GREGORY
Martha LITTLEWOOD
Ann PICKET
Harriet SMITH
William LUNN
Joseph SENIOR


KINGSTON MILLS.

HYDE. JUNE 20th 1887

Years
28
27
27
27
27
27
27
27
27
27
27
26
26
26
25
25
25
25
25
25

------------
Inscription (2002)
This Memorial Plate
is subscribed for and erected
by the present occupiers
of Kingston Mills
in commemoration of
the 50th year of the reign of
Queen Elizabeth II
J H Ashworth & Son Ltd
(throwsters & processors of filament
polyester & nylon yarns)

The Cheshire Ribbon Mnfg Co
(woven tapes & webbing)

June 2002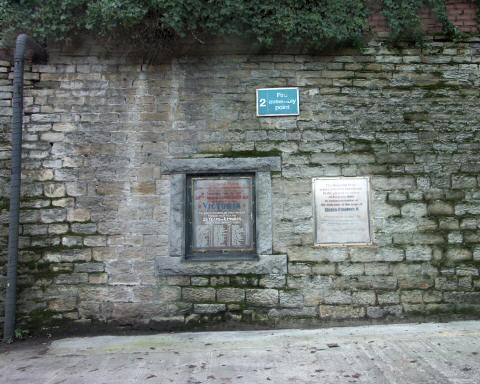 Notes
Thanks to to Jeff Keyworth for finding this memorial.

The photos were taken on a frosty morning when memorials were slightly obscured by condensation on the protecting glass. I will return to take better photos when the weather improves.