War Memorial, Imperial Chemical Industries, Newton, Hyde.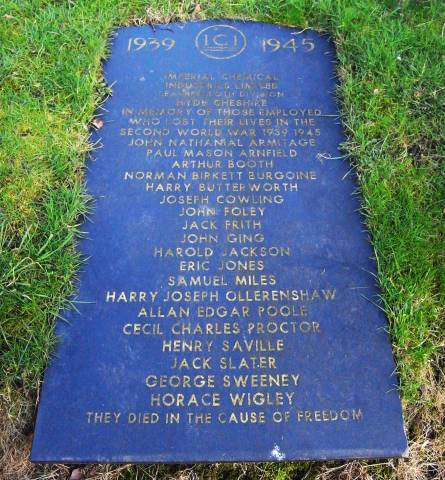 Location
In the grounds of St Mary's Church, Newton, Hyde.
Description
A marble slab set into the ground just to the right of entrance gate to the churchyard. It records the names of workers from the nearby Imperial Chemical Industries works (now closed) who fell in the second world war.

St Mary's has its own war memorials inside the church.
Inscription
1939 ICI 1945
IMPERIAL CHEMICAL
INDUSTRIES LIMITED
LEATHER CLOTH DIVISION
HYDE CHESHIRE
IN MEMORY OF THOSE EMPLOYED
WHO LOST THEIR LIVES IN THE
SECOND WORLD WAR 1939 1945
John Nathanial ARMITAGE
Paul Mason ARNFIELD
Arthur BOOTH
Norman Birkett BURGOINE
Harry BUTTERWORTH
Joseph COWLING
John FOLEY
Jack FRITH
John GING
Harold JACKSON
Eric JONES
Samuel MILES
Harry Joseph OLLERENSHAW
Allan Edgar POOLE
Cecil Charles PROCTOR
Henry SAVILLE
Jack SLATER
George SWEENEY
Horace WIGLEY
THEY DIED IN THE CAUSE OF FREEDOM