War Memorial, Holy Trinity, Gee Cross.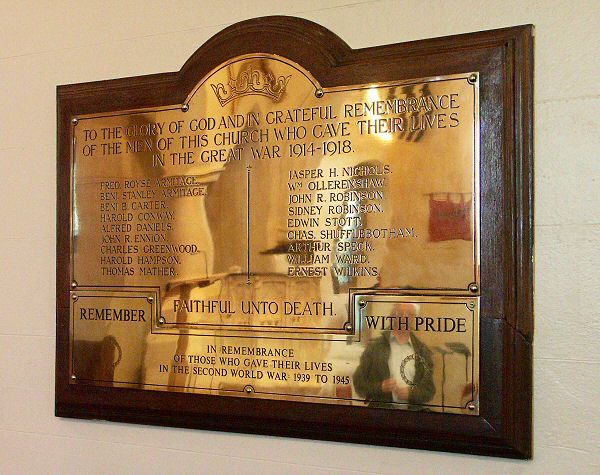 Location
In Holy Trinity Church, Gee Cross.
Description
Two brass plaques mounted together on a wooden panel. The upper plaque names the men of the church who fell in the first world war. The lower plaque is in memory of those who fell in the second world war, but it does not name them.
Inscription
TO THE GLORY OF GOD AND IN GRATEFUL REMEMBRANCE
OF THE MEN OF THIS CHURCH WHO GAVE THEIR LIVES
IN THE GREAT WAR 1914 - 1918
Fred Royse ARMITAGE
Benj Stanley ARMITAGE
Benj B CARTER
Harold CONWAY
Alfred DANIELS
John R ENNION
Charles GREENWOOD
Harold HAMPSON
Thomas MATHER

Jasper H NICHOLS
Wm OLLERENSHAW
John R ROBINSON
Sidney ROBINSON
Edwin STOTT
Chas SHUFFLEBOTHAM
Arthur SPECK
William WARD
Ernest WILKINS

FAITHFUL UNTO DEATH
REMEMBER WITH PRIDE
IN REMEMBRANCE
OF THOSE WHO GAVE THEIR LIVES
IN THE SECOND WORLD WAR 1939 TO 1945