War Memorial, St George's Church, Hyde, Cheshire.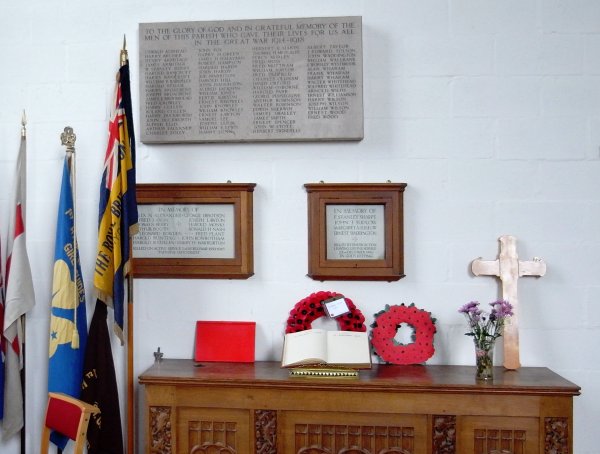 Location
In St George's Church, Hyde, Cheshire.
Description
There are three war memorials in the church.

- A stone panel inscribed with the names of those of the parish who fell in WW1.

- A framed document showing the names of those of the parish who fell "on active service" in WW2.

- A framed document showing the names of parishoners who were killed in an air raid during WW2.
Inscription - WW1 Memorial
TO THE GLORY OF GOD AND IN GRATEFUL MEMORY OF THE
MEN OF THIS PARISH WHO GAVE THEIR LIVES FOR US ALL
IN THE GREAT WAR 1914 - 1918
Oswald ADSHEAD
Harry ARCHER
Henry ARMITAGE
James ARMITAGE
W Stanley BARRY
Harold BANCROFT
Harry BANCROFT
William B BARDSLEY
Harold BRIDGE
Harry BROADBENT
Joseph BROADBENT
James E BROOMHEAD
Fred CROWLEY
Harry CULLEN
Roland CULLEN
Harry DUCKWORTH
John DUCKWORTH
Alfred ELLIS
Arthur FAULKNER
Charles FOLEY

John FOX
Harry H GREEN
James H HALKYARD
Robert HAMPSON
Harold HARDY
John HARDY
Joe HARRISON
Harold HILL
John HAUGHTON
Alfred JACKSON
William JONES
Bertie KIRTON
Ernest KNOWLES
John KNOWLES
William KNOWLES
Ernest LAWTON
Samuel LEE
Joseph LEIGH
Willaim E LEWIS
Harry LUNN

Herbert E MAKIN
Thomas H METCALFE
Percy MORLEY
Fred MOSS
Fred MOTTRAM
William NAYLOR
Fred OLDFIELD
Charles OLDHAM
David ORFORD
William OSBORNE
Harold PARR
George PURSSGLOVE
Arthur ROBINSON
Walter ROBINSON
Edwin SHERWIN
Samuel SMALLEY
James SMITH
Ernest SPENCER
John W STOTT
Herbert SWINDELLS

Albert TAYLOR
J Edward TOLSON
John WADDINGTON
William WALLBANK
E Worsley WESTBROOK
Alan H WHARAM
Frank WHARAM
Harry WHARAM
Walter WHITEHEAD
Wilfred WHITEHEAD
Arnold WILDE
Ernest WILLIAMSON
Harry WILSON
Joseph WILSON
William WILSON
Ernest WOOD
Fred WOOD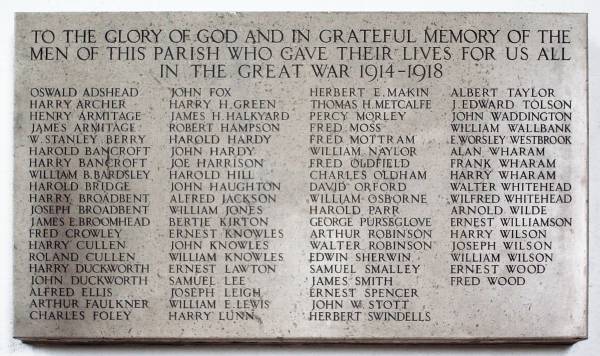 Inscription - WW2 Service Memorial
IN MEMORY OF
Felix N ALEXANDER
George IBBOTSON
Alfred J AXON
Joseph LAWTON
Thomas N BERRY

+

Harold MONKS
Arthur BOOTH
Ronald H NASH
W Leonard BOWDEN
Fred PLANT
Harold BUNTING
John ROWBOTHAM
Harold R CULLEN
Harry H WARBURTON
KILLED ON ACTIVE SERVICE 2nd WORLD WAR 1939 - 1945
"FAITHFUL UNTO DEATH"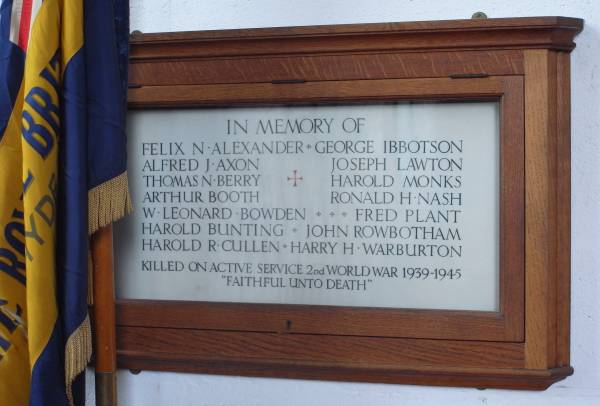 Inscription - WW2 Civilian Memorial
IN MEMORY OF
F Stanley SHARPE
John J SUDLOW
Margaret A SUDLOW
Ernest WADDINGTON
+
KILLED BY ENEMY ACTION
LEAVING DIVINE SERVICE
22nd DECEMBER 1940
"IN GOD'S KEEPING".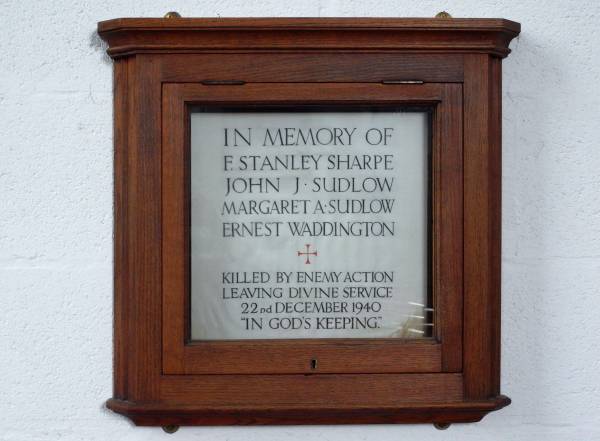 Comment
Having recorded the above memorial to civilian air-raid casualties I wanted to know more, so I read the local newspaper (the North Cheshire Herald) for relevant the date. It gave the following:
Killed While Returning
From Church
Incidents of Air-Raid in North West


While occupants of some houses which were struck by bombs during an air raid in the North-West of England during the week-end escaped uninjured, people who were returning from a church service were killed. When houses in the middle of a row received a direct hit two children named Harold Leah, aged 3 and his Brother Thomas Leah aged 5, were buried amid the debris and their bodies were not recovered till some hours afterwards. A little girl who had been in the house playing with them was uninjured
The news item is not very informative. It mentions that people had been killed while returning from a church service, but it doesn't give their names or location, although it does give the names some children who were killed in a different unspecified location. That was all the newspaper was allowed to print. The Herald was printed a quarter mile from the scene of the tragedy. Its reporters would have known all the details, perhaps personally known those killed, but the censor did not allow them to print the information.
The censorship of the time was an attempt to deny information to the enemy, but, post-war, it makes it difficult to obtain details of air-raid casualties. Perhaps this is why only a small percentage of the civilian bombing casualties are mentioned on war memorials, in contrast to those who died on active service where a great deal of effort was made to ensure that all were recorded.