War Memorial, County School, Hyde, Cheshire.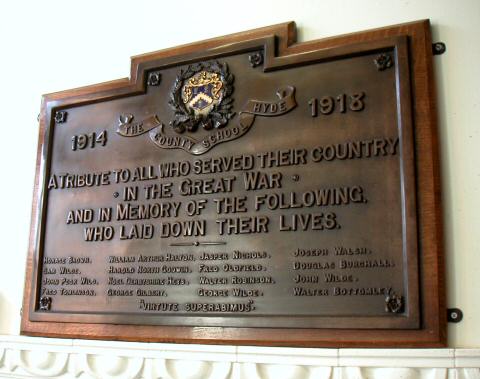 Location
In the main entrance porch to Hyde Sixth Form College, Clarendon Road, Hyde, Cheshire. For most of its life this building was known as Hyde Grammar School, however the plaque says "The County School Hyde", presumably the name of the school at that time.
Description
A bronze plaque inscribed with the names of those (presumably old boys of the school) who fell in the First World War.
Inscription
1914 -
THE COUNTY SCHOOL HYDE
- 1918
A TRIBUTE TO ALL WHO SERVED THEIR COUNTRY
IN THE GREAT WAR
AND IN MEMORY OF THE FOLLOWING
WHO LAID DOWN THEIR LIVES.
Horace BROWN
Sam WILDE
John Peck WILD
Fred TOMLINSON

William Arthur HALTON
Harold North GODWIN
Noel Derbyshire HEYS
George GILBERT

Jasper NICHOLS
Fred OLDFIELD
Walter ROBINSON
George WILDE

Joseph WALSH
Douglas BURCHALL
John WILDE
Walter BOTTOMLEY

"VIRTUTE SUPERABIMUS"