War Memorial, High Lane, Cheshire.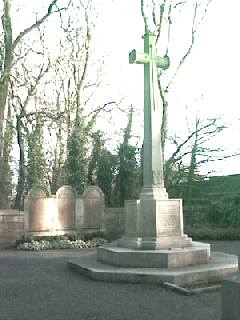 Location
Near St Thomas's Church, Buxton Road, High Lane, Cheshire. (In Stockport, Greater Manchester, since the 1974 county boundary change).
Description
A stone cross. The names of those of High Lane who fell in the two world wars are inscribed on the base.

Behind the cross are three stone panels headed "1914 PRO PATRIA 1919" with more names. Presumable these are the men of High Lane who returned from the First World War.
Inscription on the cross
(those who fell)

IN

GRATEFUL REMEMBRANCE OF

THE MEN WHO AT THE CALL OF DUTY

WENT FROM THE PARISH OF HIGH LANE

TO THE GREAT WAR OF 1914 - 1919 AND

FOUGHT IN DEFENCE OF LIBERTY & RIGHT.

RECORDED UPON THIS CROSS
ERECTED BY THE PARISHIONERS
IN THE YEAR OF OUR LORD 1920
ARE THE NAMES OF 30 MEN
WHO LAID DOWN THEIR LIVES.

Ernest BENNETT, DCM
Josiah BENNETT
Ernest BRADBURY
Allan BROOM
Clarance BYROM
Harold COOPER
William COOPER
Arthur J FARMER
Albert FERNS
Fred GARDINER
William GODDARD
Norman GREAVES
Wilfred GREENWOOD
Thomas HALLWORTH
John W HALLWORTH
Herbert HALLWORTH

John W HALLAM
Jack HARDY
John W HAYES
Joseph HOLLAND
Egbert MACKERETH
George W MILLER
Alan NORBURY
Charles R H ORFORD
Thomas PLATT
Samuel PLATT
Stanley RIDGWAY
Stanley WARBURTON
T George F WARNER MM
Sydney WILLSHAW

Inscription on the panels
(those who returned)
Arthur ARDERN
Harry ARDERN
Jesse ARDERN
Thomas ARDERN
William ARMSTRONG
Thomas H ASHTON
James ATHERTON
Cyril AXON
George W BAKER
Fred BARROW
Arthur BEAUMONT
Sydney BELL
Arthur BEELEY
Harry BEELEY, MM
Fred BEELEY
Albert BENNETT
Arthur BENNETT RN
Fred BENNETT
Hervy BENNETT MM
Joseph BENNETT
Robert BENNETT
Samuel BENNETT
Walter BENNETT
Walter G BOTTOMS
George BRIDGE
John C BRIDGE

John J BROCKLEHURST
Percy BROOKS
Frank BROOKS
George BROOKS
William H BROOM
H C S J BURY, RN
Alfred CADMAN
Jesse CADMAN
James A COOPER
William T COOPER
Jesse COOPER, RN
George COMMINS
James DOUGHTY
Roland EARNSHAW
Frederick EDWARDS
Harry EDWARDS
Wallace EDWARDS
Isaac EDWARDS
George H FAULKNER
Richard FERNS
Jesse FERNS



------------



Frederick W FIELDS
Arthur FIRTH, RN
Jesse GARSIDE
Livesay GLEAVE
Alec GLEAVE, RAF
Charles C GOODALL
Leslie J C GOODALL, MC
Harold GOODWIN
Robert GOODWIN
Stephen GOODWIN, RN
Charles H GREEN
Frank GREEN
Frederick GREEN
John W GREEN
Wilfred GREEN
Allen GREENWOOD
Edwin GREENWOOD
Fred GREENWOOD
William GRIFFIN
Louis C C GROCOTT
Bernard HEAPE, CofC
Horace HADFIELD
John HALL
Samuel HALLAM
Allen HALLWORTH
Frand HALLWORTH
Harry HALLWORTH

Augustus HAWLEY
William S HAWLEY
Dennis HOWARD
George HUMPHREYS
William HUMPHREYS
John H JACKSON
John V JOHNSON
Herbert S JONES, RN
Joseph S JOWEL, RN
Edmund KNOWLES
George LANCASTER
James McARTHUR
Fred MARSDEN
John MARSDEN
Hervy MELLOR
Norman MILLS
Albert MINSHALL
John MOTTRAM
Albert MOTTRAM
Charles C GOODALL



------------



James MOORES
Charles NICHOLLS
Thomas NOBLE
James C OSBORNE
Thomas F OSBORNE
Sydney PERRY
William H PLATT
John R POWELL
Winston E POWELL
Fred PROCTOR
James REID
John REID
Harold F RICHARDSON
Tom RIDGWAY
William RIDGWAY
Harry ROBINSON
Thomas ROBINSON
Harry SHARRATT
Frank SMITH
Richard SMITH
James F SMITH
Winston H SMITH
William E SMITH
Finlay G STEUART, MC
William W STEUART
John SWEENEY

Anthony H SPENCER
Alfred TAYLOR
Arthur F TAYLOR
Henry TAYLOR
James TAYLOR
Fred TOMLINSON, DCM
James T WARBURTON
Ellis WARBURTON RAF
Ernest WHITEHEAD
Fred WHITTAKER
Alfred WILD, RAF
John W WILD
Wilfred WILD
Edward C M WILLIAMS
Herbert A WILLIAMS
Eli WOOD
Henry WOOD
John WOOD
William YARWOOD
Harold COOPER, CofC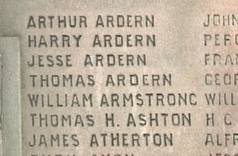 ALSO 1939 - 1945.
Greater love hath no man than this
that a man lay down his life
for his friends.
Jack NIXSON
Joseph PICKFORD
Thomas Rodie RIDDELL
Gordon John SINGLETON

1946 AS A RESULT
OF ENEMY ACTION
William DAVIES
Ronald MORRIS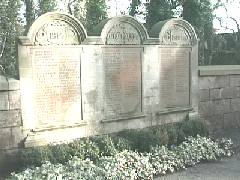 Alfred Frith, Sculptor, Macclesfield.