War Memorial, Long Lane, Cheshire.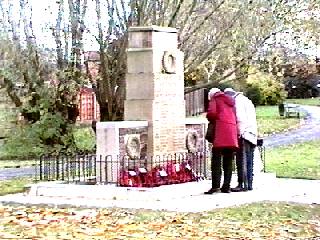 Location
Wilmslow Road and Mona Avenue, Heald Green, Cheshire.
(In Stockport, Greater Manchester, since the 1974 county boundary change).
Wilmslow Road was at one time known as Long Lane.
Description
A cenotaph in stone. Panels record the names of those of the area who fell in the two world wars.
Inscription
To the memory of the men of Long Lane and District who fell in the great war.
1914 - 1918

Gunner J AMBROSE, Royal Field Artillery
L Corp A C AMBROSE, Seaforth Highlanders
Private A ARROWSMITH, South Lancashire Regt
Private A ATKINSON, KSLI
Private J BENNETT, Royal Welsh Fusiliers
Private W BROWN, Cheshire Regiment
Sapper T H CHANTLER, Royal Engineers
AB J DEARDEN, RN
Private S DEARDEN, South Wales Borderers
Private G R FEATHERSTONE, South Wales Borderers
Corp R H GRIMSHAW, Manchester Regiment
Private W MOORE, Cheshire Regiment
Private T RATCLIFFE, Seaforth Highlanders
Private I RATCLIFFE, Bedford Regiment
L Corp J F SHAW, South Lancashire Regt
Private G SWIFT, Cheshire Regiment
Private J BEARD, Cheshire Regiment


1939 - 1945

Private J BEARD, Cheshire Regiment
Gunner W J R DUDLEY, Royal Artillery
Flying Officer E FRANCES, Royal Air Force
Corp W POLLOCK, Royal Corps of Signals
L Corp E ROSCOE, Royal Army Service Corps


Stone Mason Hilton, Manchester
Carl's Cam