War Memorial, Hazel Grove, Cheshire.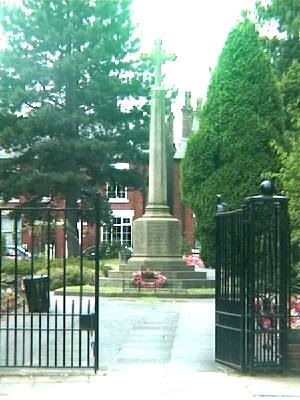 Location
Between London Road and Argyle Street, Hazel Grove, Cheshire.
(In Stockport, Greater Manchester, since the 1974 county boundary change).
Description
A stone cross. The names of those of Hazel Grove who fell in the two world wars are inscribed on the base.
Inscription
ERECTED TO THE ENDURING MEMORY
OF THE MEN OF HAZEL GROVE
WHO DIED FOR THEIR COUNTRY
IN THE GREAT WARS.
AT THE GOING DOWN OF THE SUN
AND IN THE MORNING
WE WILL REMEMBER THEM.
1914 - 1918

Samuel ADSHEAD
Walter ADSHEAD
Cuthbert ASHTON
Edward A AXON
Geoffrey H BAGSHAW
Fred BAILEY
Roland BAILEY
Henry BAILEY
George BANCROFT
Frederick W BANN
Joseph BANNISTER
William G BARTLETT
ISAAC BEELEY
David BENNETT
Fred BENNETT
William H BOWERS
George W BROWN
Joseph BURGESS
Albert BUTTERWORTH
Frederick G CLARKE
Ernest CLOUGH
Frank CLOUGH
Samuel CONDLIFFE
Arthur COOPER
Edwin CORBETT
Arthur DANIELS
Frank DANIELS
James DANIELS, RASC
James DANIELS, Cann Rt
Samuel DANIELS
Ernest DEAN
Ernest H DOMINICK
Arthur ECCLES
Robert FENNA
Isaac FIDLER
William FIDLER
Robert GEE
Herbert GLEAVE
William GOODWIN
John GRADY
Gerald GRIFFITHS
Leonard GRIFFITHS
John GRUNDEY
Frank HALLAM
Joseph HALLWORTH, Ches Rt
Joseph HALLWORTH, SLcs Rt
William HALLWORTH
Arthur HENSHALL
Harold HENSHALL
Allan HOLEBROOK
Reginald HOLEBROOK
Clifford HOLT
Herbert HOOLEY
Ernest HOWE, MB
Reginald HUNT
Frank A JACKSON
Charles JOHNSON

Leonard JOHNSON
Arnold JONES
Louis B JONES
Daniel KILDAY
Harold P KING
Fred LEAH
Percy LE VESCONTE
John MALPAS
Ernest MARRIOTT
John W MARSLAND
John MARTIN
Abraham MELLOR
Frank MIDDLEBROOK
Charles OLDHAM
Percy OLDHAM
John OPENSHAW
Edward PAINTER
Frank JOHNSON
Harold A PERCIVAL
Harold PHILLIPS
Henry B PILLATT
James PILSBURY
William PORCHER
Stanley POWELL
John W RIDGWAY
Walter RIDGWAY
George RIDGWAY
Walter R ROBINSON
Fred ROWBOTHAM
Harold SKEEN
Walter SMITH
Gilbert W STANTON
Bertram C STEAD
George STUBBS
James SWINDELLS
William SWINDELLS
James H HALLWORTH
George TALLENT
Winson TALLENT
Edward TAYLOR
Frederick TAYLOR
Harry TAYLOR
John TAYLOR
William TIERNEY
Arthur VERNON
Stephen W VICKERS
Harold WALTERS
Stanley WARBURTON
Joseph WELBOURN
Herbert WILLIAMSON
Norman WILSON
Harry WOOD
George WOOD
James WORTHINGTON
Edwin YOUNG
John Henry CLARKE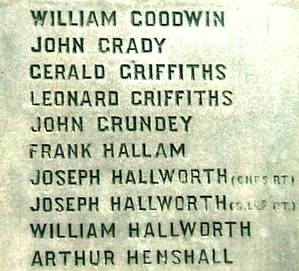 ------------
1939 - 1945

Edgar BAILEY
Frederick W BAILEY
Joseph BANCROFT
Joseph F BANNISTER
Arthur BENNETT
Jack BENNETT
John BLACKSHAW
Harry BOSTOCK
Fred BOULTON
Thomas BOWDEN
Bryan BOWKER
Kenneth C BROOKS
William B BUNTING
George B CARTER
Cyril COLLINSON
Frank A DANNER
Robert E C DUTTON
Roger GREGORY
Charles HALLWORTH
Oliver J HASLOP
George HATTON
Harold HIORNS
Laurence H HOLLIWELL
John H INESON
Walter S JOHNSON
Jack G JONES
Joseph LANGSTON
James LEES
Howard J LODGE
Walter V LUDLAM
Francis L McMAHON

George MEADWELL
William R MILLINGTON
Roland MOSS
Jack NIXSON
George R NORTHWOOD
William H PAGE
Stanley PHILLIPS
Frank B PHILLATT
Frank E RIDGEWAY
Reginald A W ROBERTS
Edwin ROWBOTTOM
Thomas ROYLE
Paul N SCREETON
Arthur B SHAW
Tom SHAW
Basil SHAWCROSS
Herbert E SIBBITT
Eric S SIDDALL
Gordon J SINGLETON
Harold SKEEN
Frank STENNETT
Leslie SWIFT
William SWINBURNE
Reginald W THOMAS
Jack THORNLEY
John S THOMKINSON
Joseph TOPP
James TUDGE
Richard TUDGE
William WALSH
Eric WRIGHT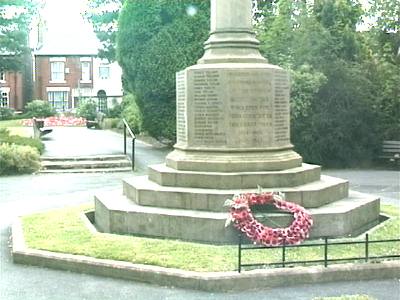 Carl's Cam