War Memorial, Hale Barns, Cheshire.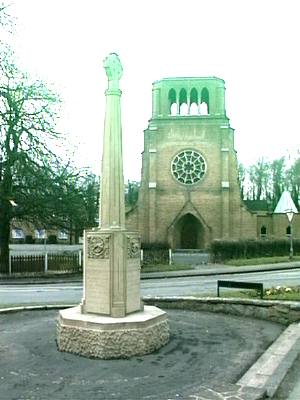 Location
Hale Road and Wicker Lane, Halebarns, Cheshire.
(In Greater Manchester since the 1974 county boundary change).
Description
A tall sandstone cross. The names of those of Hale Barns and Ringway who fell in the two world wars are inscribed on the base.
**It is not very clear which names apply to which war. The dates below are based on the layout of the memorial, but my interpretation may be wrong.
Inscription
TO THE MEMORY AND HONOUR
OF THE MEN OF HALE BARNS AND RINGWAY
WHO GAVE THEIR LIVES
IN THE TWO WORLD WARS
**1914 - 1918
Albert BLEASE Air Mechanic
Percy BOWERS Private
Arch'bd Buckley BROOKS Captain
Rowland Causer BROOKS Lieutenant
John Howard CLARKE Cadet
Joseph CLARKE Private
Harry COLLINS L-Corporal
Harry DAVENPORT Private
Frank GATLEY Private
Sam GATLEY Able Seaman
Wm HOLLINGWORTH Private
John JACKSON Private
Albert LEWIS Private
James Wm POWELL Private
Richard R RIMMER Private
George Brian SCHUNCK Private
John Arthur SILGRAM Private
Harry SUMNER Rifleman
John Thomas SUMNER Private
James Clifford TATTERSALL Private
Robert VANSON Private
Frank WHITFIELD Rifleman
Gerald WINSTANLEY Private
William WINSTANLEY Rifleman
John Alfred WOLFF Lieut-Colonel
William YARWOOD Sergeant

**1939 - 1945
John F COOPER
Alfred DAVENPORT
Arnold EDWARDS
Frederick W HEAD
Arthur R JENKINS
Alexander McNAIR
Geoffrey TAYLOR
Max RAINGILL 2nd Lieutenant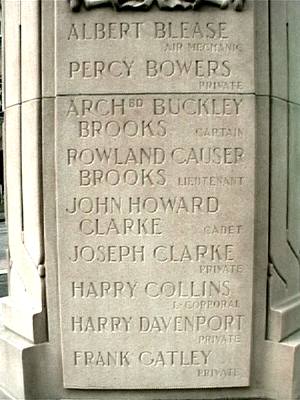 Carl's Cam