War Memorial, Godley Hill, Cheshire.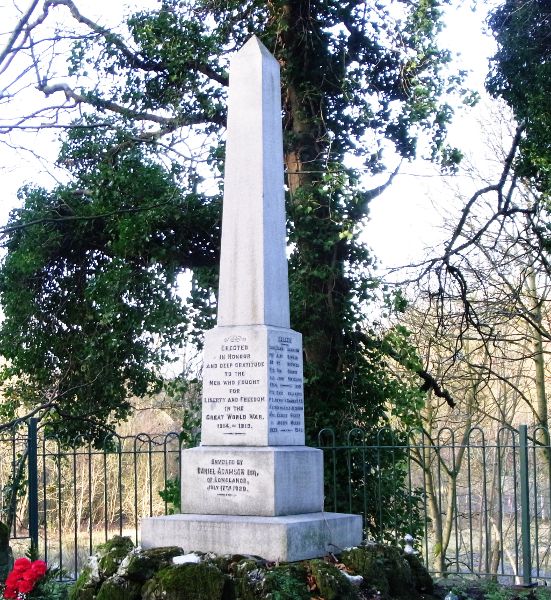 Location
On Godley Hill Road, Hyde, Cheshire.
Description
A stone obelisk set in a small memorial ground. The obelisk bears the names of those of Godley Hill who fell in the two world wars, and of those who served. There is some ambiguity in the memorial text. It is unclear if the lists of those who served cover both world wars or just WW1.

There are four lists of names on the memorial, the meaning of two of the lists is clear:
- five local men who fell in WW1,
- five who fell in WW2.
The remaining two lists, with 20 names in each, show those who served. One of these lists most probably shows those who served in WW1. The other list may show additional WW1 names, or it may show those who served in WW2. Originally a WW1 memorial, the WW2 names were added at a later date.
Inscription


ERECTED
IN HONOUR
AND DEEP GRATITUDE
TO THE
MEN WHO FOUGHT
FOR
LIBERTY AND FREEDOM
IN THE
GREAT WORLD WAR
1914 - 1919.


---


UNVEILED BY
DANIEL ADAMSON Esq,
OF LONGLANDS,
JULY 17th 1920

---



WILLOUGHBY WILDE
& SONS, HYDE.



FALLEN

Lieut Daniel ADAMSON
Pte Alec BOWKER
Gr Wm BROOKES
Pte Tom EDDINGS
Sgt John PURSGLOVE
1914 ----------- 1919


Pte Eric BELLAERS
P O Harry N DAVIES, DFC
F E Sgt Harold JACKSON
Pte Ernest MILLER
Pte Joseph MILLER
1939 ----------- 1945







Sgt Ernest BEAL
Sgt Alfred BARTON
Pte David BARDSLEY
Pte Wm BULLOUGH
Cpl J Wm DAY
Pte J Wm ELLIS
Pte Arthur ELLIS
Cpl Geo. GIBSON
Sgt R P HITCHIN
Dr Wm HUGHES
Pte Fred HOWARTH
Dr Wm KNOWLES
Pte Wm KIRKHAM
Lieut Ernest LEE
Pte Wm SMALLEY
Pte Jas TAYLOR
Pte ERNEST WILKINSON
Sgt Thos WILKINSON
Pte Harold WIDDOWSON
Pte Walter C WALKER




Lieut Geo R ADAMSON
Pte Sidney BEAL
Pte Harry CRITCHLOW
Pte Frank CRITCHLOW
Cpl Geo COOMBES
Sp Vere FOSTER
Pte Ed HEWITT
Dr Wm JACKSON
Pte Herbert JONES
Pte Arthur JONES
Pte Frank JONES
Pte Wm LEECH
Pte John MELLOR
Sgt J Wm OLDHAM
Pte Frank OLDHAM
Pte Herbert A PRICE
Gr John SWAN
Pte Ed SMITH
Gr J Wm TURNER
Pte Arthur FERNLEY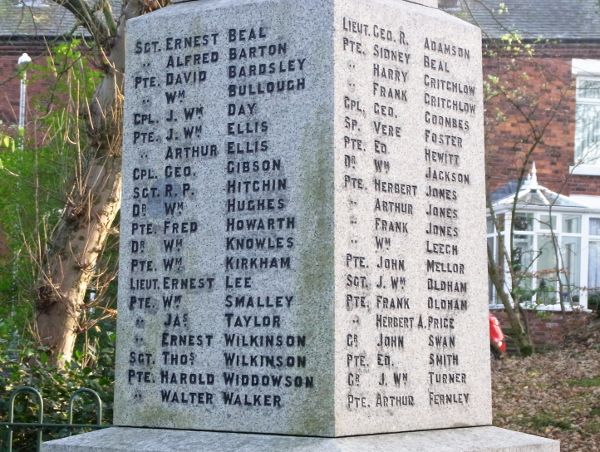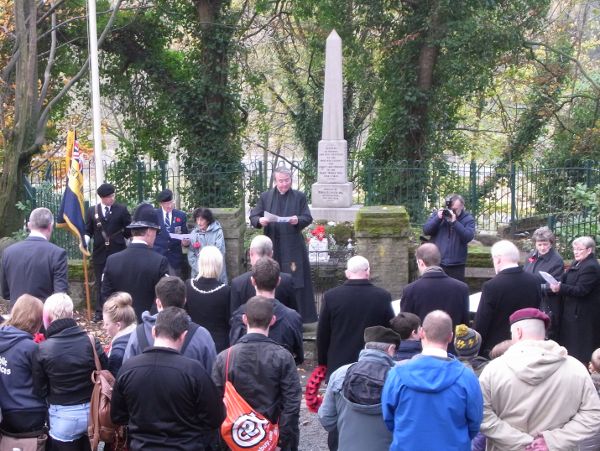 Photo taken on 11th November 2011