War Memorial, Gatley, Cheshire.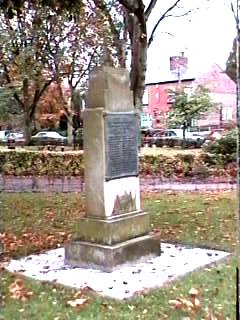 Location
On Gatley Green, Church Road, Gatley, Cheshire.
(In Stockport, Greater Manchester, since the 1974 county boundary change).
Description
A stone tablet. The names of those of Gatley who fell in the two world wars are shown on a cast metal plaque attached to the tablet.
Inscription
1914 - 1914,
TO THE GLORY OF GOD
AND IN MEMORY OF THE
GATLEY MEN WHO DIED
FOR HONOUR AND FREEDOM
IN THE GREAT WAR
William T ALMOND
Frank DUNNING
Frederick FALLOWS
Charles GARLICK
William T HANKINSON
Clifford HARDING
James W HEWITT
George HOLDEN
Victor E LUCAS
Albert MINSHALL
Leonard PRITCHARD
Albert POTTS
Cyril STREET
Leonard TRURAN
William TAYLOR
Thomas WOOD
Charles D WARDLE

1939 - 1945,
IN HONOURED MEMORY
OF THOSE WHO GAVE THEIR
LIVES FOR THEIR COUNTRY

Dennis S ARNETT
Gordon ASHTON
Douglas H BROOKS
Kenneth BROWN
Peter BURROWS
Douglas J CHEW
Allan CLOUGH
L E COLLINSON
Kenneth COOPER
Andrew G DICK
Richard DICK
Herbert James DIXON
L E DOLBEAR
Jack H EASTWOOD
Geoffrey GODDARD
Geoffrey HARRISON
Dennis HART
Gordon HAMILTON
Henry HUDSON
William M O JONES
Sidney KENDERDINE
Stuart LOWE
Raymond MORRIS
Frank PEARSON
David PRITCHARD
Alfred ROTHWELL
B M SAYERS
Rodney St James SMITH
George STONE
Geoffrey WHITEHURST
Alan E WHITTAKER
W E WILLIAMS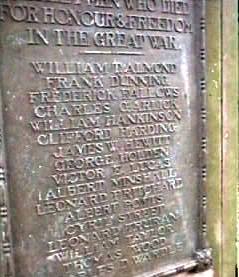 Carl's Cam