War Memorial, Congleton, Cheshire.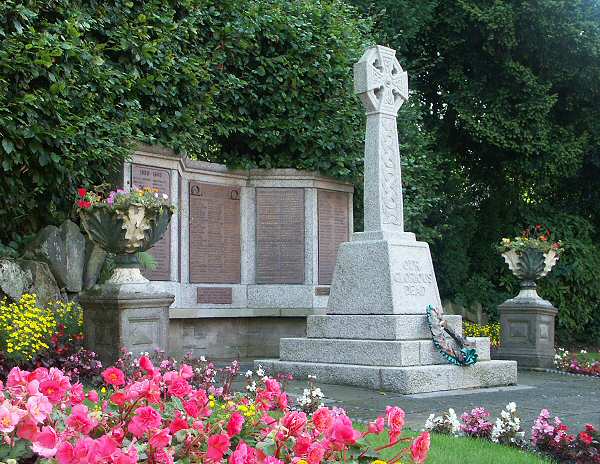 Location
Lawton Street, Congleton, Cheshire.
Description
A stone cross and memorial wall set in a small well kept garden.

The wall supports memorials to those of Congleton who fell the two world wars, to the Royal Netherlands Brigade formed in Congleton during the second world war, and to a Congleton man who died in action in Oman in 1958.
Inscription
1914

IN GRATEFUL MEMORY OF
THE MEN OF THIS BOROUGH
WHO LAID DOWN THEIR LIVES
IN THE GREAT WAR.


1918
George DUCKWORTH
Henry DUFF
Albert EATON
Charles H EATON
John ELKIN
Rowland ELKIN
Richard ESPLEY
John ETCHELLS
William FITZGERALD
George H FLOY
Fred FODEN
Samuel B FODEN
Edwin FOSTER
George FOSTER
Joe FOSTER
James FROST
W Thomas FURNELL
John GALLEY
A GALLIMORE DCM
Charles GALLIMORE
G Arthur GALLIMORE
Thomas GARDINER
Albert GAUNT
Frank GOODALL
Harry GOODALL
Richard GOODALL
Fredk W GOODWIN
George C GREEN
Abraham GREEN
Ernest GREGORY
Richard HACKNEY
Walter HALL

Frank HALL
James A HAMMOND
Frank HANCOCK
Alfred HANCOCK
Arthur HANCOCK
Edward HARVEY
Arthur HASSALL
John W HASSALL
Peter HENRY
J W HIGGINBOTTOM
James HIGGINBOTTOM
Allan HIGGINS
Joseph HIGGINS
Peter HIGGINS
Thomas HIGGINS
George E HILL
Wallace T HILL
Harold HODGKINSON
Percy HOLLINSHEAD
Willie HOLLAND
Charles W HOLLAND
Harry HORTON MM
Peter HORTON
James HOUGH
Walter HOUGH
Herbert R INGLE
Thomas JOHNSON
George W JOHNSON
A Leslie JOHNSON
Roy JOLLEY
Harry JONES
John JONES

Raymond JONES
William E JONES
William JONES
Frank KEARTON
L Bertram KILBORN
Fred LANCASTER
Arthur LAWTON
James LAWTON
Clarence LEWIN
Arthur LILLEY
John LILLEY
Fred LOMAS
J Edward LUCAS
Harry MacDONALD
John McGARRY MM
John MELLOR
W A MELLOR
Albert MOORES
John F MOORES
William G MORRIS
Jack MOSS
Frank MULLOCK
William MYCOCK
T Ewart NORRIS
William K NORRIS
John NORRIS
Albert OGDEN
Edward OWENS
Norman C OXBORROW
George PARKER
Allan W PAYNE
Issac PEDLEY

George ARDERN
William F BAILEY
Herbert BAILEY
John J BAILEY
Harold BAILEY
George BAILEY
Walter BALL
Albert BALL
Arthur BALL Chesh R
Arthur BALL Border R
James BARKER
Percy BARKER
John A BARKER
Reginald BARLOW
W Laurence BARLOW
Samuel BARNETT
T Beech BARTON
Frederick O BATE
William C BAYLEY
Ernest BAYLEY
George BICKERTON
Ernest BIRKENSHAW
Emanuel BLEASE
Norman BOFFEY
Moses BOON
James BOON
Frank BOOTH
Zachariah BOOTH
Harold BOSTON
Harold BRAMMER
James F BRATBY
Albert E BRATBY
James BRINDLEY
Herbert BROUGH
Arthur E BROUGH
Amos BROWN
Joseph BUCKLEY

Bertie BUNN
Howard BURGESS
Robert A BURGESS
Peter BURKE
Harry BURSLEM
James CARNEY
Hubert L CARSON
C Graham CARSON MC
Harry CARTER
Ernest CARTLIDGE
James A CARTLIDGE
Walter CAUDWELL
J Bertie CHADDOCK
Fred CHADWICK
Norman CHAMP
A CHARLESWORTH
Norman P CLARK
Walter CLEGG
J Edward COOK
Edward COOK
Enos COPE
Arthur COPESTICK
Harry CORNES
James CUTLER
George DALE
Harry DALE
Harold DALE
Ernest DAVENPORT
James DAVENPORT
Frank DEAN
Harry DEAN
Horace DEAN
Henry R DEAN
Charles DENHAM
Reg. J DEWSBURY
G Stanley DUCKITT
Arthur J DUCKWORTH

James PEMBERTON
Arthur PEMBERTON
Charles POOLE
John F POOLE
Charles E POSTLES
Ben PROCTOR
Edwin PROUDLOVE
E John PULLEN
Percy REDDISH
Frederick RIDGEWAY
Thomas RIDGEWAY
Thomas ROBINSON
Harry ROBINSON
George ROUTLEDGE
Fred SANDBACH
john SCHLANK
William H SHEARD
Martin SHEEN
Walter SHEEHAN
Robert SHENTON
James A SKERRATT
Walter SLATER
J Norman SMITH
William SMITH
Arthur SPROSTON
John SPROSTON
Leonard STARKEY
John H STARKEY
Joseph STOCKTON
David STOCKTON
Frank STUBBS
Thomas L STUBBS
Thomas SUMMERFIELD
Charles SUMNALL
Richard SUMNALL
Frank SWINDELLS
Frank SWIRE

Frank TAGELL
Joseph TAYLOR
William TAYLOR MM
Walter TAYLOR
Harry THOMPSON
Jacob TOMLINSON
Thomas TRUEMAN
Hubert TUNSTALL
Charles TURNER
Frank TURNER
Harry TURNER
Daniel TURNOCK
William A TURNOCK
Albert WARBURTON
Ernest WHALLEY
Herbert WHALLEY
James WHEELDON
Joseph WHITEHURST
Ernest WHITTER
Isaac WILLIAMS
J F Ernest WILLIAMS
Wilfred WILLIAMSON
James WINKLE
Ernest WOOD MM
James WOOD
Thomas WOOTON
William WOOTON
Charles WORRALL
Frank WORRAL
Charles M WORTH
Frederick WRIGHT
George WRIGHT
S Jesse WRIGHT
Isaac WRIGHT
William WRIGHT
James W YATES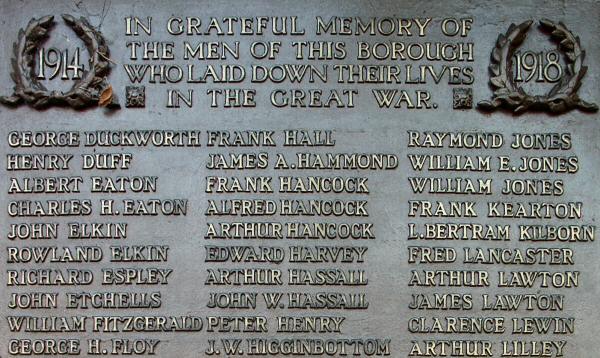 1939 - 1942

Stanley J ARMSTRONG
John ASPELL
John F BAILEY
Thomas W BAILEY
Herbert E BANKS
Trevor BANN
Reginald BARLOW
Phyllis BAXTER
Edwin BAYLEY
Jack BERESFORD
Lawrence BETTE
Albert BOOTH
Frederick BRATT
Arthur BROUGH
Dennis BROWN
John BROWN
Sydney J BUNCH
George BURGHAM
Robert BURNS
Alfred BUXTON
Thomas CAMPBELL
William D CAMPBELL
George CHAMP
Clement COCK
Reginald COPE
Arnold CROSS
Ronald CROSS

John S CUNLIFFE
Harold DALE
Elsie M DAVIES
Harry DAVIES
Harry DEAN
George DERBYSHIRE
Jesse DOOLEY
Harold DUCKWORTH
Reginald DUTTON
Kenneth C EAGLAND
Albert W ECCLES
Leonard G EDWARDS
Denis FARRALL
Reginald FARRALL
Harry FINDLOW
James L FINNEY
Norman E FODEN
Norman FORSTER
Sidney GAUNT
Fred HACKNEY
Jesse HANCOCK
William F HARROP
Bert HIGGINS
John T HIGGINS
Roland HILL
Raymond HOLLOWOOD
Arthur HORTON

Frank HULME
George H HULME
Donald W JOLLIFFE
Wallace E JONES
Robert W KELSALL
William A LANCASTER
Robert LILLEY
Thomas LILLEY
Jack LIMEBURNER
Arthur D MACHIN
James A MANDLEY
Arnold McDONALD
John W MINSHULL
Stanley MITCHELL
Wilfred MOSS
John MOULD
James H NADEN
Leonard J NEALE
Frank P NIGHTINGALE
Jack PATTEN
Frank PICKFORD
Arthur POINTON
James PRYOR
William S RATCLIFFE
Clifford ROBINSON
George SANDBACH

Cyril SHAW
Jack SHERRATT
Frank SIMS
Noel SKERRATT
Herbert SLACK
Samuel E SLANEY
Gordon SMITH
Walter D SMITH
Thomas M SNELSON
Wilfred SPARE
Stanley M SPURR
E John SQUIBB
Eric STUBBS
Frank STUBBS
Frank TAGELL
Harry THORLEY
Samuel THORLEY
George TIMMS
Jack TITTLER
Jacob TOMLINSON
Leonard VAN ROY
William W WALLACE
Frank WHITBY
Frank WILLIAMSON
John WINNINGTON
Harold WOOD
Ronald YATES

IN MEMORY OF THE MEN OF THE
ROYAL NETHERLANDS BRIGADE
PRINCESS IRENE, FORMED IN CONGLETON
IN 1940, WHO LOST THEIR LIVES IN
THE SECOND WORLD WAR.
CORPORAL DOUGLAS SWINDELLS MM
SPECIAL AIR SERVICES REGIMENT
KILLED IN ACTION
OMAN 1958





OUR
GLORIOUS
DEAD