War Memorial, Congleton Edge Methodist Church.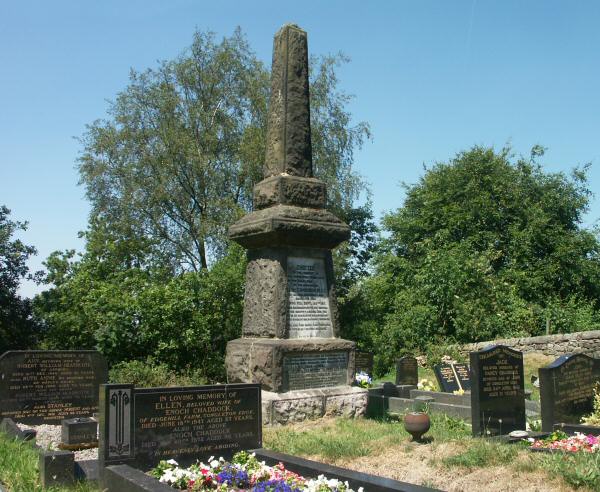 Location
In the grounds of the Methodist Church at Congleton Edge, Cheshire.
Description
A rough-cut stone obelisk bearing two inscriptions. One in memory of their son by the parents who paid for the memorial. The other in memory of the scholars of the local Sunday School who fell in the First World War.
Inscription
ERECTED


TO THE MEMORY OF
ALL THOSE WHO WERE LOST
IN THE GREAT WAR.
BY THE PARENTS OF


LIEUT F OVER BATE MGC


OF BRISTOL UNIVERSITY AND
CONGLETON EDGE


WHO FELL SEPT 25th 1917,


THUS CONSECRATING TO THE SERVICE
OF HIS COUNTRY AND HIS GOD, THE
THE GIFTS OF CHARACTER AND INTELLECT
WITH WHICH HE WAS SO WELL ENDOWED.


"STILL, CALL THOU EARLY, CALL THOU LATE,
TO THY BLEST SERVICE DEDICATE."


BURIED IN BELGIUM

THIS TABLET IS PLACED HERE BY THE OFFICIALS OF
CONGLETON EDGE WESLEYAN SUNDAY SCHOOL, TO THE
MEMORY OF THEIR SCHOLARS WHO FELL IN THE WAR
1914 - 1918
Jonathan B CHADDOCK, Moses BOON
William E JONES, Walter MELLOR
THESE BOYS HAVE WON THE WELL FOUGHT DAY,
AND LAID THEIR ARMOUR DOWN,
DUTY WELL DONE - THEIR VICTORIES WON,
THEY WEAR THE CONQUERORS CROWN.