War Memorial, St Peter's Church, Chester.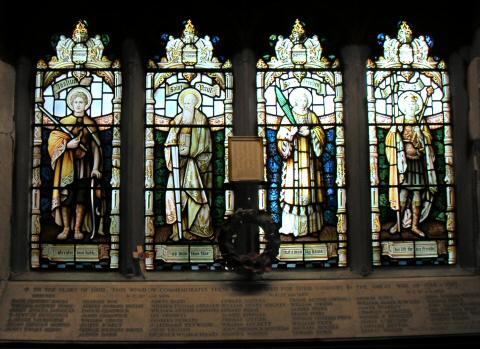 Location
In St Peter's Church, Chester.
Description
A stained glass window. The names of those of the church who fell in the first world war are engraved beneath the window.
Inscription
TO THE GLORY OF GOD. THIS WINDOW COMMEMORATES THESE MEN WHO DIED FOR THEIR COUNTRY IN THE GREAT WAR OF
1914 - 1919.
Officers

Hugh Frederic DAVIES
William Murray DOBIE
James Sholto DOUGLAS
T Clifton HUTCHINGS
J Oscar LAYBOURNE
Allan Duncan MORRIS
James Ewart QUINN


------

N.C.Os and Men

Charles BOX
Albert Edward BUTLER
Enock CHADWICK
James CHADWICK
William CROSS
Joseph D'ARCY
George Richard DAVIES
Alfred DODD

Edwin DODD
William Thomas GERRARD
William Arthur GRIFFITHS
Lea GRINDLEY
Charles HESKETH
J Leonard HEYWOOD
John HIGGINS
Frederick William HOLMES


------

N.C.Os and Men

Edward HUGHES
William Henry HUGHES
Edward KEENE
Samuel KIRKHAM
Thomas LITTLER
William LOCKETT
John Frederick MULLIGAN
Maurice MURPHY

Frank Arthur OWENS
William OWENS
Alfred PEERS
Frank PEERS
Thomas Charles PRICE
William PRICE
Michael ROGERS
Edward ROWE


------

N.C.Os and Men

George ROWE
William James ROWSON
James SHARKEY
Charles SHEPHERD
Samuel H STONELEY
James STRETTON
Leonard SUTTON
Ernest WALLER

John William WATSON
William WELLS
John Allan WHARTON
Eric Thomas WILD, Cadet
William Henry WILDIG
Joseph WOODS
Walter BONNER
Stephen Ernest RAYNER
John RAFFERTY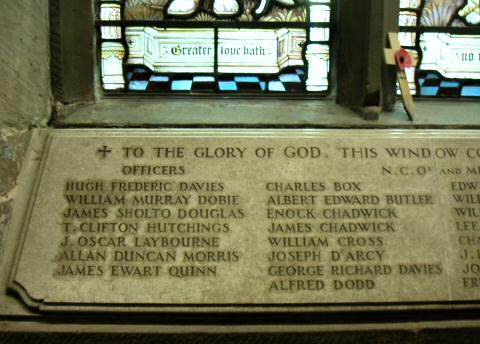 Notes
St Peter's is located in the heart of Chester, on the Rows, at the junction of Northgate St and Watergate St. The interior is divided into three. A space for public worship. A chapel for private contemplation, this houses the war memorial. And a café where one can find a friendly tea or coffee.