WW2 War Memorial, Crosville Motor Services, Chester.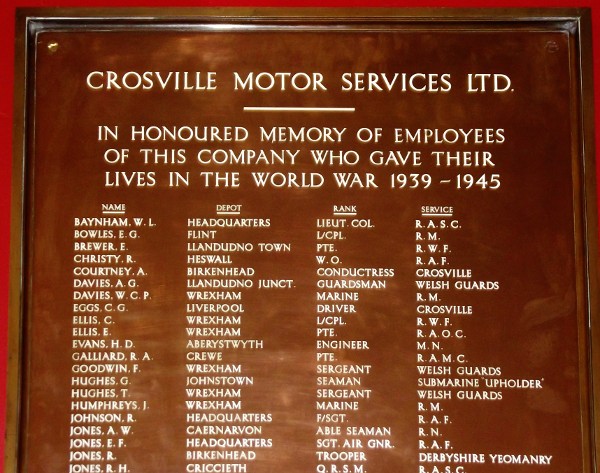 Location
In the Lecture Theatre of the Grosvenor Museum, Chester.
Description
A metal panel, finely painted, demonstrating the skills of the company's coach-painters.
It Names
Employees of Crosville Motor Services Limited who fell during WW2.
It shows surname and initials, the department of Crosville in which they had worked, rank, and regiment or civilian occupation in which they were serving when they died.
Inscription

CROSVILLE MOTOR SERVICES LTD

---

IN HONOURED MEMORY OF EMPLOYEES OF THIS COMPANY WHO GAVE THEIR LIVES IN THE WORLD WAR 1939 - 1945

Name
Depot
Rank
Service
BAYNHAM W L
Headquarters
Lieut Col
R A S C
BOWLES E G
Flint
L/Cpl
R M
BREWER E
Llandudno Town
Pte
R W F
CHRISTY R
Heswall
WO
R A F
COURTNEY A
Birkenhead
Conductress
Crosville
DAVIES A G
Llandudno Junct
Guardsman
Welsh Guards
DAVIES W C P
Wrexham
Marine
R M
EGGS C G
Liverpool
Driver
Crosville
ELLIS C
Wrexham
L/Cpl
R W F
ELLIS E
Wrexham
Pte
R A O C
EVANS H D
Aberystwyth
Engineer
M N
GALLIARD R A
Crewe
Pte
R A M C
GOODWIN F
Wrexham
Sergeant
Welsh Guards
HUGHES G
Johnstown
Seaman
Submarine Upholder
HUGHES T
Wrexham
Sergeant
Welsh Guards
HUMPHREYS J
Wrexham
Marine
R M
JOHNSON R
Headquarters
F/Sgt
R A F
JONES A W
Caenarvon
Able Seaman
R N
JONES E F
Headquarters
Sgt Air Gunr
R A F
JONES R
Birkenhead
Trooper
Derbyshire Yeomanry
JONES R H
Criccieth
Q R S M
R A S C
LLOYD D W
Wrexham
Sergeant
R A F
LLOYD T W
Aberayron
Trooper
R A C
MELLOR H B
Headquarters
Sgt Pilot
R A F
MOORE A
Crewe
Pte
R A S C
MORRIS E P
Bl Festiniog
Pte
R A O C
PARRY G J
Criccieth
Gunner
R A
PODMORE C
Crewe
Pte
Recce Corps
RESTALL F C
Chester
Sapper
R E
RICHARDSON A J
Runcorn
Pte
R A
ROBERTS G C
Pwllheli
Able Seaman
M N
ROBERTS J E
Denbigh
Driver
R A S C
WALKER J
Warrington
Trooper
Royal Tank Corps
WILLIAMS T A
Heswall
L/Cpl
Lancs Fusiliers



"THEY DIED THAT WE MIGHT LIVE"
Notes and Comment
Crosville Motor Services was based in Chester. Between 1911 and 1990 it provided bus services in Chester, south and west Cheshire, The Wirral, and North Wales.

The names on the memorial are those of the company's employees who died as a result of WW2. Most are in military service, presumably ex-employees. Some were in the Merchant Navy. Others appear to be civilians, presumably they were air-raid victims.
Thank You
to David Shepherd for the photograph on this page.