War Memorial, Cheadle Hulme Methodist.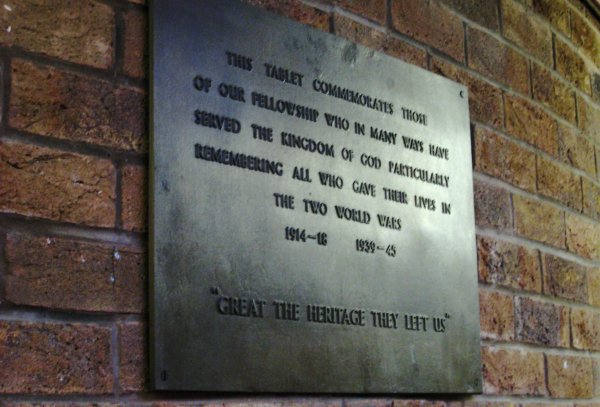 Location
In the Methodist Church, Station Road, Cheadle Hulme.
Description
The current memorial, pictured above, showns no names.

The original memorials were damaged beyond restoration when the church building was destroyed by fire in 1963. They included a memorial naming the 13 members of the congregation who fell in WW1, and two family memorials to sons who fell in WW2. Copies of the inscriptions were preserved and are given below.
Inscription, Current Memorial
THIS TABLET COMMEMORATES THOSE
OF OUR FELLOWSHIP WHO IN MANY WAYS HAVE
SERVED THE KINGDOM OF GOD PARTICULARLY
REMEMBERING ALL WHO GAVE THEIR LIVES IN
THE TWO WORLD WARS
1914 - 18 1939 - 45
Inscription, Original WW1 Memorial

To the Glory of God,
and in Grateful Memory of:
Frank ARCHER
Harry COOPS
Stephen William ISHERWOOD
Harry KELCHER
Albert KENYON
Clifford RAWLINSON
Herbert Hampson ROFE
Samuel Edward TUNSTALL
Charles Greaves TURTON
William Horace VENABLES
Fred WALSH, MM
James WESTHEAD
Frank Simpson WRIGHT
Their name liveth for evermore.
Names from Original WW2 Memorials
Alan BRATT
Donald RODGER