War Memorial, Cheadle, Cheshire.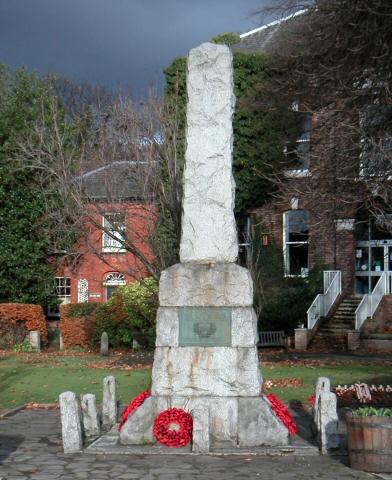 Location
High Street and Manchester Road, Cheadle, Cheshire. (In Stockport, Greater Manchester, since the 1974 county boundary change).
Description
A stone obelisk. Metal panels on the base name those of Cheadle who lost their lives in the two world wars.
Inscription
To the Glory of God
and in grateful remembrance
of the men of this village
who fell in the great war
1914 ~ 1919.
William ACTON
Frank ADAMSON
Ronald ADAMSON
George A BAILEY
James BAILEY
Alfred BALL
Arthur BALL
Alec J BARDSLEY
Walter BERRY
Christopher BOLLARD
Charles BRADBURY
Tim BRIDDON
Arthur BROWN
Frank BUXTON
William CALLAN
Joseph V CARR
Reginald S CARR
Walter CARTER
Herbert P CHANTLER
Joseph CHANTLER
James H CHESTER
Alfred CHORLTON
John CLIFFORD
Robert CLIFFORD
Thomas COOMBES
Harold E CROSSFIELD
William DARBYSHIRE
George H DAWS
Sydney DAVIES
Charles DYKE
Charles DYSON
Harry EASTWICK
Arthur E EVANS
Sydney EVERETT
Fred FINNEY
Philip G FINNEY
John H FOX
Horace FRANKLIN
Peter GALT
Peter T GARVIE
Charles GOODWIN
Edward O HARROP
Ernest HARROP
George T HAWKYARD
John C HODGKINSON
George A HOLDEN
Arthur HOLT
Alfred HOOLEY
Thomas H HOOLEY
Frank HORNE
Albert HOUGH

John HUDSON
Arthur IRELAND
Harold JONES
Arthur LAMB
Alfred LEATHER
Herbert LEATHER
Edward LEE
Fred LEE
Leonard LEE
Harold E LILES
Frank S LILES
Norman C MARRIOTT
Fred MEDLICOTT
Edward MERCER
Wilfred MIDWINTER
Alexander L MILNE
James MARSHALL
Frank NEWTON
Frederick M PAULL
Arthur W PERRY
Edwin PICKERING
William PIMBLOTT
Edward J POTTS
William RENSHAW
Robert ROGERS
Herbert James ROSE
Leonard ROUGHTON
Charles RUSSELL
Frederick J RUSSELL
Percy SAGAR
Ernest J SHEPPARD
William SMELLEY
Albert SMITH
Francis H SMITH
William SMITHSON
Percy J SOUTHWORTH
John E STREET
Harry SUTCLIFFE
George V SWIFT
William S TELFORD
George H THOMAS
Jack WARBURTON
James F WHITWORTH
Robert WILKINSON
Geoffrey WILSON
Harry W S WALL
Thomas R WORTHINGTON
Arthur WRENCH
Charles WRENCH
Fred WRENCH

"This shall be written for those that come after:
and the people which shall be born shall praise the Lord"

1939 ~ 1945
To The Glory of God
and in Memory of Those
Who Gave Their Lives
During World War II

G ADAMSON
E ASHWORTH
H G BROOKES
G A BROWN
W BROWN
H BROWN
J D CHOULARTON
F COATES
J F CUTHBERT
R DASH
A E DUNN
R DUNN
T W B EMMOTT
N FRENCH
G GODDARD
J C GORST
N HETHERINGTON
L HIGGINBOTTOM
A R HITCHEN
J HITCHEN
G B HOLLAND
H HUDSON
A J JONES
L JOWETT
D KENDALL
Sydney KENNEY
A E KINGHAM

L LEE
L D LEGGETT
H LLOYD
S MATHEWS
J MATTS
A J H MILLIN
G MILNE
C L MOLLOY
G R MORRIS
E MOTTERSHEAD
J P MURPHY
C A NOONE
J W PICKUP
D PRESTON
J PRESTON
J E PRESLEY
G M REA
E REDSHAW
C H RICHES
W A ROGERSON
J SHIERS
W H SHORT
T D SMITH
G TENNYSON
D W TREVIVIAN
J VARLEY
L WARWICK

Air Raid Victims
A M B BENNISON
K M BENNISON
M BROOKES
R CAMPBELL
R F HARRISON
N JACKSON
J T LYDIATT
F MILLER