War Memorial, Bramhall, Cheshire..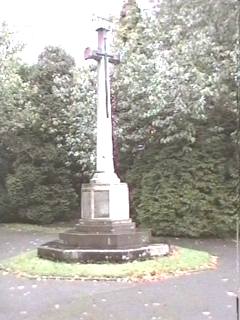 Location
On Bramhall Lane, 50 yards south of the railway station, Bramhall, Cheshire.
(In Stockport, Greater Manchester, since the 1974 county boundary change).
Description
A stone cross set in a small memorial garden. On the base are engraved the names of those of Bramhall who fell in the two world wars.
Inscription
THE GREAT WARS 1914 - 1918, 1939 - 1945
We remember you and are grateful. We erect this monument to your honour and memory. They shall grow not old as we that are left grow old, age shall not weary them nor the years condemn, at the going down of the sun and in the morning we will remember them.
1914 - 1918
Sydney BARBER
Joseph BARDSLEY
Bertram BAYLEY
Edward BOUSKILL
Ralph BOWETT
Frank S BROOKS
Alec W BRYDON
R Henry BURGESS
Leslie BUTLER
J Athur CHAPMAN
Arthur FORD
Thomas N GARNER
Henry GRAHAM
Malcolm B GREEN
Frank H HALLIDAY
Herbert W HEATON
Harold W HIGGINS
H Ronald HIGGINS
Tom W HOOLEY
Fred HORTON
Stephen W ISHERWOOD
Stanley JEPSON
Desmond C JONES
Edwin J JONES
M Guy KENNY
Fred LAMB
David C LANGTON
Fred LEAH
Alfred LEE-WOOD
T Arthur MADDOCKS
Alfred S O'DWYER
Douglas PADFIELD
Frank PEARSON
Samuel PEARSON
J Erick PERCY
C Harold PIKE
Norman PINKERTON
Tom A PUGH
T Leigh REDFERN
Alfred J REDFERN
Alfred E ROBINSON
Robert B RUSSELL
William J SIVEWRIGHT
Reginal S SPENCER
Geoffrey R STEINTHAL
J Stanley WHITELOCK
James B WOOD

1939 - 1945
John A APPLEBEE
Arthur F BADDELEY
Harold BAILEY
John H BARLOW
Harry BROOKSBANK
Kenneth R BURROWS
Robert C J BURTINSHAW
Frank H BUTTERWORTH
Alexander COLLIE
John K COLLINS
Godfrey DAWSON
Keith R DEAN
John L DUKE
John B ELLIOTT
Cyril C GIBSON
George N HARDWICK
Peter K HOPE
Robert B HOPE
Stanley R HOTSON
Kenneth R HOWARTH
Alan IBBOTSON
David L W JONES
William KERSHAW
William E S LEES
Lawrence A MANNERS
Roy MARPLES
James A McMANUS
Donald W McMICHAEL
Philip L MORTON
David R POLLARD
Peter K PROSSER
Stamford M SHARP
Philip E TURNER
Bryan G WALKER
Robert M WALMSLEY
Arthur W WHITTAKER
Donald A WILLIAMS
Herbert WILSON
John M WOOD
Thomas C WOOD
Leonard COCKER
A Leslie JACKSON