War Memorial, Bosley, Cheshire.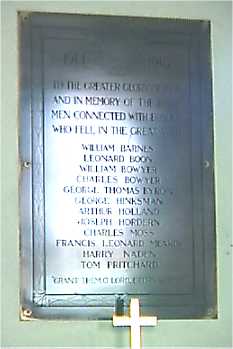 Location
Inside the Church of St Mary the Virgin, Bosley, Cheshire.
Description
An engraved metal panel. It names those of Bosley who fell in the first world war.
Inscription
1914 - 1918
TO THE GREATER GLORY OF GOD
AND IN MEMORY OF THE BRAVE
MEN CONNECTED WITH BOSLEY
WHO FELL IN THE GREAT WAR.

William BARNES
Leonard BOON
William BOWYER
Charles BOWYER
George Thomas BYRON
George HINKSMAN
Arthur HOLLAND
Joseph HORDERN
Charles MOSS
Francis Leonard MEAKIN
Harry NADEN
Tom PRICHARD
"Grant them, O Lord, Eternal Rest".
Carl's Cam