Memorial, South Africa 1899 - 1902, Chester Cathedral, Cheshire.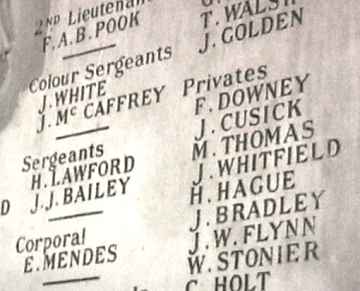 Location
In the south transept of Chester Cathedral, Cheshire.
Description
Two memorials to those of the Cheshire Regiment who fell in South Africa during the second Boer War (1899 to 1902).

A decorated marble tablet shows the names of those who fell. It covers the whole regiment but doesn't show first names, only initials.

A memorial carved into the stone wall of the Chapel of the Cheshire Regiment. It names only the fallen of the Second Battalion but does show first names.
Inscription
To the Glory of God and in Memory
OF THOSE GALLANT SOLDIERS OF THE CHESHIRE
REGIMENT WHO DIED FOR THEIR COUNTRY IN
SOUTH AFRICA DURING THE YEARS
1899, 1900, 1901, 1902
2nd BATTALION


Captain

C W COLLINS


Lance Sergeants

J DICKSON
J PATCHETT


Corporals

H LITTLER
C BRADBURY


Lance-Corporals

W MAGEE
D DUNN
G BARTON
D REID


Privates

R EVANS
H SIMPSON
J HARE
T WEAVER
R MAKIN
R BUTLER
J HOWARTH
P MURPHY
H UPTON
C EBERALL
B GREENHALGH
J ADNITT
H LEE
J TOMLINSON
J ALLEN
A ELKES
T BOURNE
W JAMES
W ROWLETT
C LILLIE
T SIMMONDS
W McGUINNESS
R KIMBER
J BILTON
J JEFFS
R WHITTINGHAM
S GOODIER
G FRENCH
R HETHERINGTON
H TAVENOR
E W SHAW
J GRANEY
A FISHER
P TUFFS
P HEALEY
T EBBLEWHITE
A PEARSON
A CORNFORTH
A J TUDOR
J ALLEN
W JACKSON
W GARRETT
W HOLDEN
B NORRIS
D DICKENS
W KELLY
J H N DALEY
T STOTT
J CARTWRIGHT
T HEMMINGS




VOLUNTEER
SERVICE
COMPANIES



Corporal

J BUCKLEY


Lance-Corporal

F NEWSTEAD


Privates

J BANKS
J ELLIS
J COX
J BOOTH
W JOHNSTONE
W H JONES
W PRICE
J HANCOCK
J C HEFFERN
H ORCHARD




3rd BATTALION


Sergeant

W J ROLFE


Lance-Corporals

P McGERTY
F KIRKHAM


Drummer

W GREENLAND


Privates

G COTTRELL
F HEESOM
T MAHONEY
A CALDWELL
W GROOM
J DILLON
B COLLINS
T DARMODY
L LYNAM



4th BATTALION


2nd Lieutenant

F A B POOK


Colour Sergeants

J WHITE
J McCAFFREY


Sergeants

H LAWFORD
J J BAILEY


Corporal

E MENDES


Lance-Corporals

J H ROWBOTHAM
W McKAY
J WESTWOOD


Privates

J M CARRY
W GREENHALGH
J GERRIGHTY
J H HIGGINBOTHAM
S SHEPPARD
S SHELDON
A MELLOR
A REYNOLDS
W TURNER
J GILLIGAN
G MELLOR
T WALSH
J GOLDEN


Privates

F DOWNEY
J CUSICK
M THOMAS
J WHITFIELD
H HAGUE
J BRADLEY
J W FLYNN
W STONIER
C HOLT
A HAYE
J T OWENS
A SCRAGG
J McMANUS
A FRAIN

THIS MONUMENT IS ERECTED BY ALL RANKS SERVING IN THE
CHESHIRE REGIMENT AND SOME FRIENDS IN THE COUNTY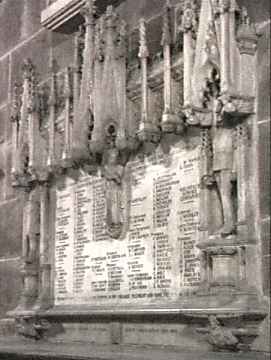 ------------
2nd Battalion Killed in Action
and died on active service
in South Africa A:D: 1900 1902

Capt C W COLLINS
Lce Sgt J W DICKSON
Lce Sgt J T PATCHETT
Cpl Charles BRADBURY
Cpl Herbert LITTLER
Lce Cpl George BARTON
Lce Cpl Daniel DUNN
Lce Cpl William MAGEE
Lce Cpl David REID


Privates:
John ADNITT
John ALLEN
James ALLEN
James BILTON
Thomas BOURNE
Richard BUTLER
A J CARTWRIGHT
Alfred CORNFORTH
J M V DALY
David DICKENS
Charles EBERALL
Thomas EBBELWHITE
Richard EVANS
Alfred FISHER
Peter FRENCH
William GARRETT
Samuel GOODIER
J GRANEY
Benjamin GREENHALGH


Joseph HORE
Joseph HEALEY
Frederick HEMMINGS
Robert HETHERINGTON
Albert HOLDEN
John HOWARTH
William JACKSON
John JEFFS
William KELLY
George KIMBER
Henry LEE
C A LILLIE
Robert MAKIN
W McGUINESS
Henry MURPHEY
Benjamin NORRIS
Arthur PEARSON
William ROWLETT
E W SHAW
Thomas SIMMONS
Henry SIMPSON
Charles SMITH
W H TAVENER
Charles TOMLINSON
A J TUDOR
SDsman Percival TUFFS
C H UPTON
Thomas WEAVER
W H WHITTINGHAM