War Memorial, Methodist Church, Ashton-under-Lyne, Lancashire.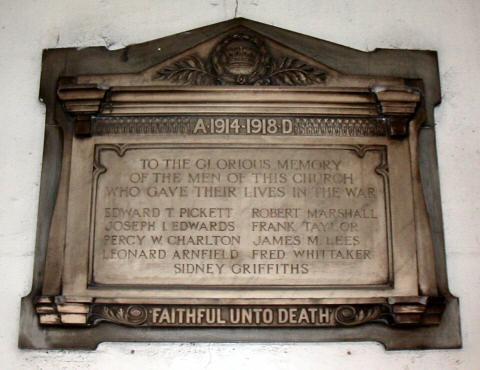 Location
The Methodist Church, Stamford St, Ashton-under-Lyne, Lancashire
Description
A stone panel on the exterior above the main entrance lists those of the church who fell in the first world war. A cast metal panel in the interior lists those who fell in the second world war.
Inscription: exterior panel
A · 1914 · 1918 · D
TO THE GLORIOUS MEMORY
OF THE MEN OF THIS CHURCH
WHO GAVE THEIR LIVES IN THE WAR
Edward T PICKETT
Joseph L EDWARDS
Percy W CHARLTON
Leonard ARNFIELD

Robert MARSHALL
Frank TAYLOR
James M LEES
Fred WHITTAKER

Sidney GRIFFITHS
FAITHFUL UNTO DEATH
Inscription: interior panel
TO THE GLORY OF GOD
AND IN HONOURED MEMORY OF ALL THOSE
CONNECTED WITH THIS CHURCH WHO
SERVED IN THIS WORLD WAR.
THE NAMES OF THOSE WHO MADE THE SUPREME
SACRIFICE, ALL OF WHOM WERE ON ACTIVE SERVICE
IN THE ROYAL AIR FORCE, ARE ENGRAVEN BELOW.

Luther Cameron ARDERN
James Ferdinand CUTLER
Thomas Wilkinson DIXON

"LIFE IS EVER LORD OF DEATH,
AND LOVE CAN NEVER LOSE ITS OWN."
Thank you
To Ros Rafnson for the photograph on this page.